Sales automation refers to software that streamlines repetitive tasks crucial for creating uncomplicated and profitable customer experiences. This functionality is often integrated into CRM software, lead generation tools, and email marketing software.
A suite of digital tools exists for automating different parts of the sales process. From generating leads to sending automated follow-up emails, these tools empower teams to efficiently manage sales activities and allocate more time to revenue-generating tasks.
Every business aims to bolster their sales pipeline with more leads, as this directly corresponds to higher profits. Yet, the demands transcend spreadsheets and email platforms. Automation comes to the rescue by enabling businesses to handle a larger influx of leads and establish a standardized sales workflow, honed for increased efficiency over time.
Navigating Manual Sales Process Challenges
Repetitive tasks consume precious time and energy that could be better directed elsewhere. Furthermore, manual sales processes become increasingly complex as lead and customer volumes rise.
Key challenges include:
Time-Intensive Tasks: Manual processes demand significant time and effort. Data entry, lead follow-up, and repetitive chores divert resources from more impactful tasks.
Inconsistent Follow-Up: Manual workflows risk overlooking follow-ups, leading to lost sales opportunities.
Data Accuracy Issues: Manual inputs are prone to errors, undermining the accuracy of reports and analyses. Informed business decisions become challenging.
Automation liberates sales teams, enabling them to concentrate on tasks of higher value.
Forrester reports that companies adopting sales automation experience a 14.5% boost in sales productivity and a 12.2% reduction in marketing overhead costs. The same research indicates that automation yields a 10% revenue increase within six to nine months.
Imagine the prospect of trimming marketing overheads by 12% and elevating revenue by 10% within six months.
According to McKinsey & Company research, roughly a third of sales tasks can be automated. Order management, post-sales activities such as follow-ups, configurations, and quotations exhibit the highest potential for automation—but the scope doesn't end there.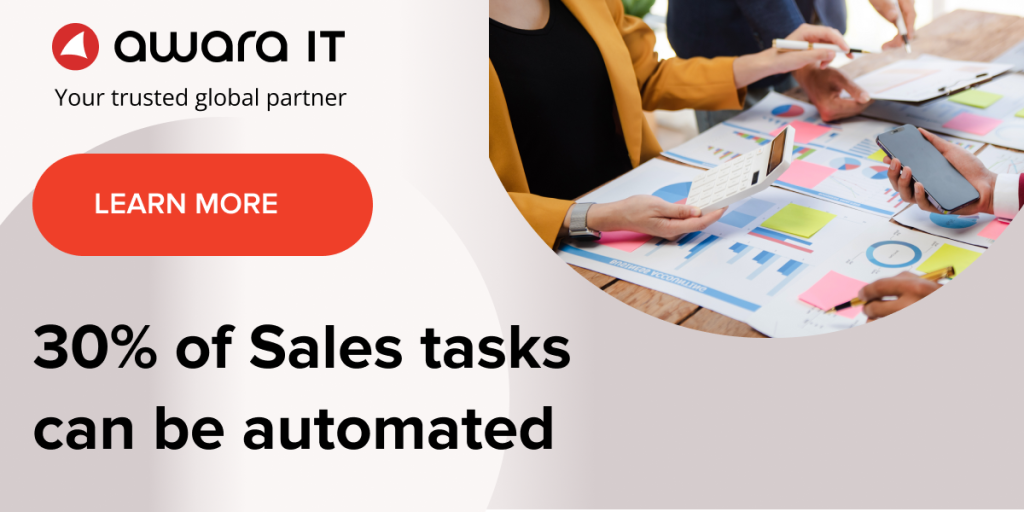 Advantages of Sales Process Automation
Consistent and Reliable Follow-Up
The frustration of unattended leads is familiar to sales professionals. Automation ensures consistent follow-up with leads and customers, improving the odds of closing deals through automated lead nurturing and follow-up emails.
Enhanced Customer Experience
Automation enhances customer experience by providing quick answers to common questions. Chatbots, live chats, and call-back widgets elevate customer satisfaction and loyalty. Sales interactions can be recorded and analyzed, providing managers insights for refining sales strategies.
Boosting Efficiency and Productivity
Controlled sales processes boost efficiency. For instance, Awara IT offering based on Microsoft Dynamics 365 for Sales offers automated pipelines, real-time alerts, and astute cross-sell/upsell recommendations. The outcome: heightened productivity and quicker sales cycles, a boon for any business.
Scalability and Insights
Business growth challenges are widespread, yet automation simplifies scaling. Handle more leads without expanding staff by leveraging KPI tracking and goal management.
Deeper Data Insights
Sales process automation yields standardized data that can be measured and adjusted. This data provides valuable insights into customer behavior and preferences, allowing sales teams to tailor their approaches.
Driving Revenue and Growth
The pinnacle advantage of sales automation is the potential for increased revenue and business growth. Automation, by improving efficiency, accuracy, and productivity, helps teams close more deals, thereby generating higher revenue and facilitating overall business expansion. Microsoft Dynamics for Sales adds predictive capabilities, refining growth projections.
In essence, Sales Automation:
Speeds Up the Sales Process
Boosts Efficiency and Profits
Gathers Better and More Accurate Data
Swiftly Identifies Quality Prospects
Offers Customer Behavior Insights
Sounds like the solution your business needs, right? The Awara IT team has crafted a customized solution based on Microsoft Dynamics 365 for Sales, equipped with all necessary features.
This solution can be implemented within a month, leading to an astonishing 14% increase in deal conversion rates

!

Contact our team today to discuss your business requirements. We'll configure a solution tailored to your needs, setting you on the path to amplified sales and growth.